Creating a joined vision for 2023 and beyond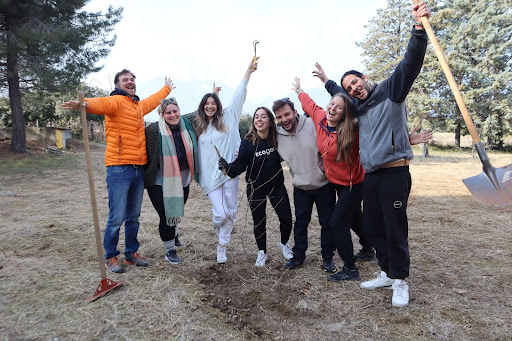 For the first time, our full Ecogenia team was able to gather all together in one place to debrief, discuss lessons learned, celebrate all that we have accomplished in 2022, and of course plan for the future. Coming out of our first year of piloting our work, made a gathering of this nature even more important. But this was also a momentous occasion on a personal level for me, as it marked my leaving the corporate world and finally coming onboard Ecogenia on a full-time capacity!
Our retreat took place in Litochoro, in the foothills of Mt. Olympus, the highest mountain in Greece. The location is symbolic for our team, as this is where we plan to scale our program to a longer service term duration with bigger cohort teams. Spending a week together with the Olympus peak always in view kept our team inspired and focused for the literal and figurative mountain that lies ahead of us to climb – and we feel more than ready for what lies ahead.
We were very lucky to have the support of an outside facilitator for his retreat,
Samuel Athlan.
Sam expertly led our team through a retrospective process that allowed us to shed any baggage coming out of 2022, reflect on critical lessons learned, and use these lessons to appropriately plan how to best work together moving forward. This process was deeply personal for each of our team members –  we tip our hat to Sam, his vulnerability and guidance throughout the retrospective made the process very fruitful.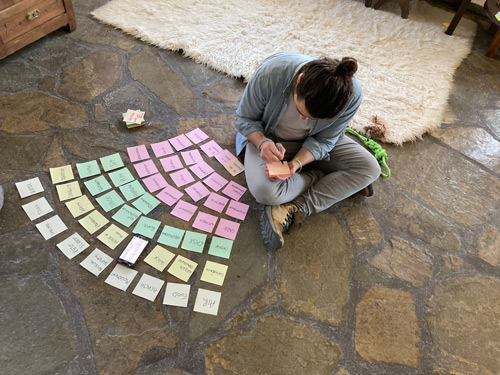 Lia and I worked with Sam to create a theme for the week – using a tree as our main inspiration. The daily themes focused on a part of the tree – leaves, branches, trunk, roots, root network. Why, you ask? Well, beyond the very obvious parallel between trees and Ecogenia's work around climate and environmental conservation, trees offer many symbolisms, which got us feeling very excited as we were trying to plan a meaningful and grounding experience for our team:
Leaves – retrospective; letting go and getting grounded in the retreat ahead
Branches – reaching out for the "why" and purpose building as a team
Trunk – supporting strength, courage and solidarity
Roots – reflecting on team culture and values
Root Network – connecting the dots on next steps, roadmapping, team support and delegation
The first day of the retreat, we spent time together in an olive grove that had been neglected for nearly 20 years. The trees had grown wild, were no longer producing fruit, and desperately needed some attention. We used this as an analogy to discuss how we would like to grow as an organization, making sure we take the time to take stock of what is working well and what we may need to shed or prune to more effectively grow – both as individuals (the tree) and as a team (the grove of trees). Of course, we not only reflected, our team rolled up our sleeves and got to work! We pruned some trees together to allow for new growth in the grove, which hopefully will bear fruit in the coming years.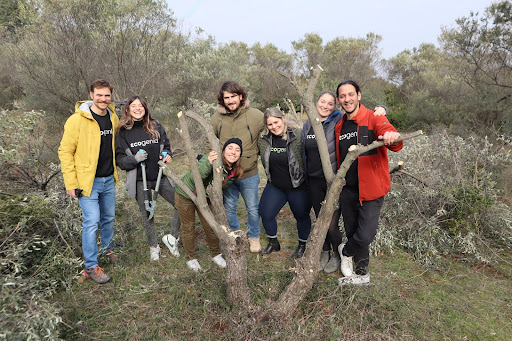 Using this as a springboard for the week, we launched into numerous team building activities, led by Sam, and walked away with a set of core values, an understanding of how we would like to more effectively work together as a team – including habits we would like to discontinue, etc.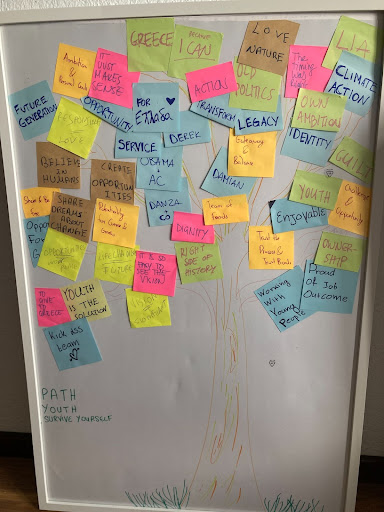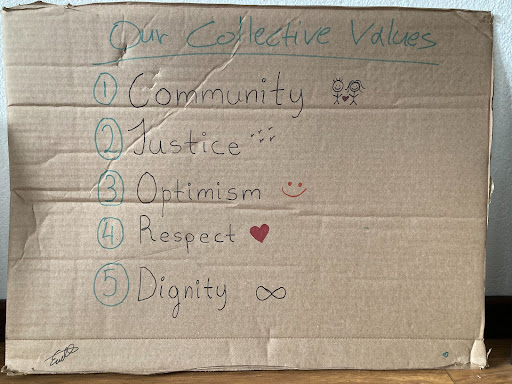 In addition to all of this important work, we spent time together in nature, immersing ourselves in the paths of Olympus. One of our key advisors and mentors, Vasilis Diamantopoulos, is also a mountain guide for Mt. Olympus. Vasilis curated special excursions on and around the mountain for our team, so we could all take in the unique majestic beauty of the place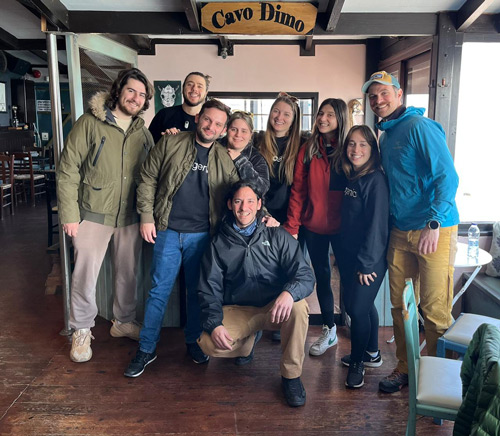 I was also thrilled to be able to lead a yoga and meditation session for the team against the beautiful backdrop of the mountain. Feeling well oxygenated and grounded, we reflected on the old proverb "a society grows great when old men plant trees in whose shade they shall never sit", and felt ever more determined for the great work that lies ahead of us.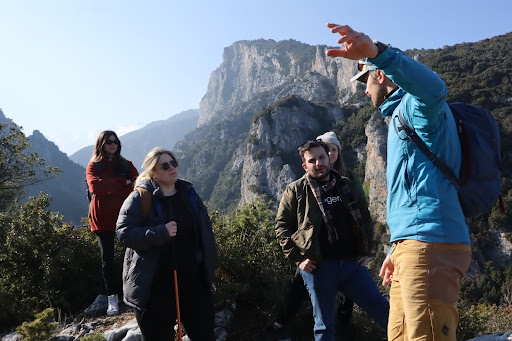 This week was very special for all of us, and certainly for the organization as a whole. We cannot thank Sam enough for his thoughtful guidance and care for our team during his week. And of course, we thank Vasilis for all the work he put into orienting us to all that Mt. Olympus has to offer – especially for our budding youth development program. We are very eager for Ecogenia cohort members to support the region in a number of ways – stay tuned as we develop this new pilot program, there are more great things to come!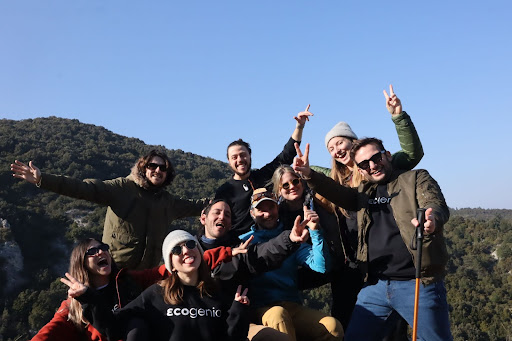 After 6 days of team bonding, reflecting and feeling inspired, we ended the retreat in the most fitting of ways! The team planted a new tree in the grove. A promise to Litochoro that we will be back to drive impact in the area, but most importantly, a promise to ourselves that we will continue nurturing our vision until it takes deep roots in Greek soil and grows to be a beautiful tree with a shade so big that it can "shelter" generations to come!