On Wednesday, September 27, 2023, Ecogenia Co-Founder, Lia Papazoglou presented civic service as a "Tool for Democracy" during the opening evening of the Athens Democracy Forum at the Acropolis Museum. Her remarks can be found both in the transcript and video recording below.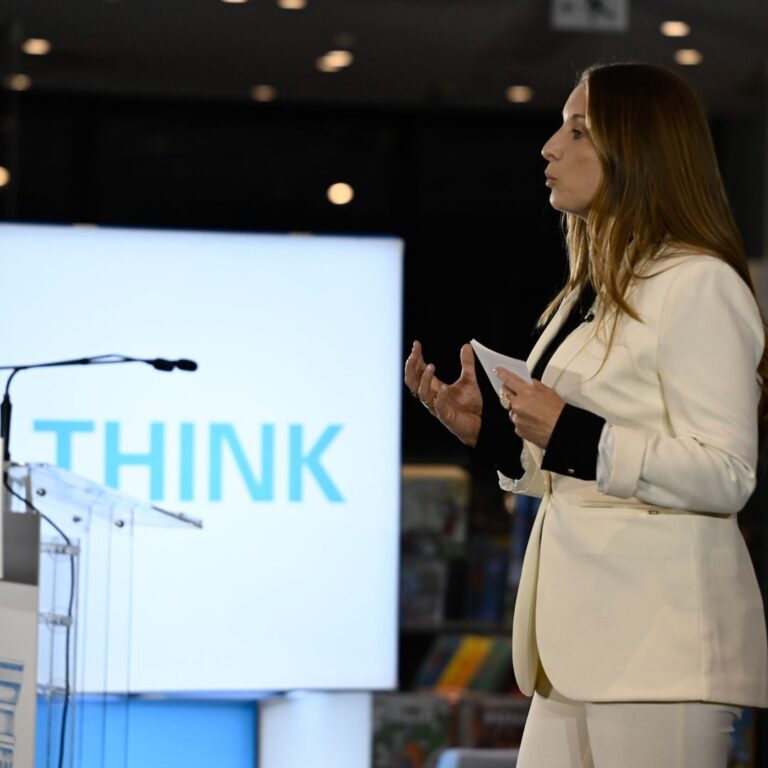 Esteemed colleagues and distinguished guests. Good evening. Kalispera sas.
What an honor it is to be here tonight with all of you.
I have been preparing for this moment for quite some time, but I have to acknowledge that it's been difficult. (You see), I live in Northern Greece, my family is from there, and the last few weeks we've been faced with one catastrophic natural disaster after another. Needless to say it's been hard to find the words to inspire you all in the midst of such despair..
I take some comfort in that we have a generation of young people that care deeply – and want to make a difference.
This generation is watching their world, their opportunities for a viable future, slip away. 
They know that time is running out, and that 2030 is just around the corner. They are feeling  angry – and anxious – and overwhelmed, just like me – just like I am sure you are all feeling in this room. And they have every right to be.
How did we get to this place?
2023 – the biggest floods and wildfires in European history – and where most people can't even afford to sit on the public beaches in their own backyard? And this is just in Greece. In many ways we have surpassed a point of no return.
This feeling is paralyzing. And we are at risk of losing a generation, the generation whose future we are talking about, because they are unsure about their place in it all and what they can actually and practically do to make a difference.
So how can we ensure that people don't lose hope? I truly believe action is the antidote to despair. If people feel like they can contribute something meaningful, to be a part of the solution, they won't sit on the sidelines.
Right here, right now, we have people in the room that can make this possible. To create the frameworks and possibilities to activate them for good.
We can harness their anger into action.
We can convert their anxiety into motivation.
We can focus their overwhelmed energy into something practical and solutions-oriented.
The good news is, there is a framework for this. We call this
civic service.
I am Lia Papazoglou, Greek-American and proudly repatriated to Greece to start
Ecogenia
, an organization bringing civic service to this country.
Civic service made international headlines last week, through President Biden's creation of an American Climate Corps. His program will mobilize over twenty thousand of young people in service annually. This is exactly what we at Ecogenia have been building here in Greece.
But – What is civic service?
Civic service mobilizes people in paid, temporary work that benefits the common good. Civic service members receive ongoing upskilling and training, while implementing projects that meet the most pressing needs of the community. This creates a ripple effect of impact that can be felt throughout society, creating active citizens who care.
If you need an example of what a ripple effect could look like – look no further than right here.
I am a two time civic service alumni myself. In 2009, I answered newly elected President Barack Obama's call to serve my country and joined AmeriCorps. This was a transformational experience for me – it was my first job out of university, it provided me with a practical and solution-oriented skill set, and gave me the opportunity to go beyond just living in a community to truly becoming a member of the community. This impact is something I wanted to bring to my other home country, Greece.
In this country, this is particularly needed as youth unemployment still remains high, there is a lack of opportunity in the job market and also high needs in the community. We can connect these dots, putting these young people to work where it is needed most.
Ecogenia's ambition is to become a national climate corps program, mobilizing thousands of young people in service across the country annually – similar to President Biden's newly formed climate corps.
Just imagine the ripple effects that will be created.
So what can these young people actually do? What are they capable of?
We have examples from around the world, where they do everything from supporting afterschool programs, building hiking trails, running conservation awareness campaigns, and disaster management.
We know the needs of the community are high – from the local level to the national level – decision makers and leaders need support, people power, to help get things done. Most of this work requires minimal training at a lower cost with higher social impact. The civic service model connects the dots between young people who want to have purposeful work with the needs of the community and the country. It's a win-win-win.
But you don't have to take my word for it, you can ask some of our cohort members yourself. I have two Ecogenia alumni here with me tonight. These young people are among the first to have completed a civic service term in Greece – they took a chance on a new nonprofit and devoted themselves to the betterment of their country.
Barbarita and Melianna would you both please stand up.
Would you all mind giving them a round of applause to thank them for their service work – pause for a few moments – these two are here to answer any questions you may all have about what their experience was actually like. I urge you to take some time to speak with them before you leave here tonight.
To quote Greta "the one thing we need more than hope is action. Once we start to act, hope is everywhere. So instead of looking for hope, look for action. Then, and only then hope will come"
My esteemed colleagues, fellow speakers, many of you here tonight are decision makers in your respective fields. And I'm sure many of you are already under way, with a multitude of solutions on how to address these unprecedented challenges. I urge you, consider the role that young people can play in supporting  your efforts.
Consider the role of civic service.
What better time and place to be having this conversation than in Athens, at the Athens Democracy Forum, where the symbolism is abundant.
The time is now. We have the opportunity to create the frameworks where citizens, communities and government work together. Let's give young people the opportunity to roll their sleeves up and help save the place we all call home.