Our goals for the second ecotourism pilot project in Dorida
Ecogenia has been on a fast moving track, with so many organizational achievements to be proud of in the last 1.5 years of being operational. As the Program Manager, I am most proud of our work engaging youth – and utilizing young people to meet the needs of the communities we are working in. And I have a particular soft spot for the very first project I managed, our ecotourism pilot project.
As the Program Manager for Ecogenia, I can hardly believe it has been a year since I lived and worked in the beautiful villages of Alpochori and Zorianos in Dorida. This place holds a special place in my heart, as it was where we launched our very first ecotourism pilot project. The experience was transformative for me, and I am excited to share our goals for the second pilot project in Dorida. You can read more about my experience in my reflection blog
The Trail to Community
,
and would also recommend my colleague's piece in the lead up to our first pilot project
The Mountain Path to Ecotourism
.
Our long-term commitment to the region involves revitalizing a 60km trail network, connecting several villages and stimulating a small ecotourism economy for the region. Last year, we successfully revitalized 5.5km of trail through the work of seven cohort members, our first trailblazers. This year, we aim to not only maintain the trail we worked on last year but also to revitalize an additional 10 km of trail.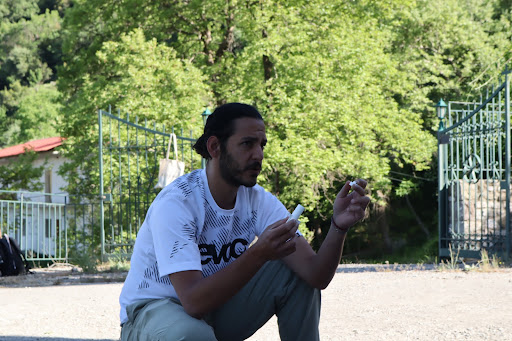 In addition to our trail-building work, we will plan and execute another volunteer day for the region and continue to help facilitate an ongoing cultural heritage project. Also, we are thrilled to be welcoming Tulane University from New Orleans, Louisiana, for a 5-day storytelling workshop as part of their study abroad program. The Tulane students will help showcase the natural resources, trail network, and cultural heritage of the region. The media produced by the students will be available for the community to use for their ecotourism plan and will be a part of our ongoing work in the region.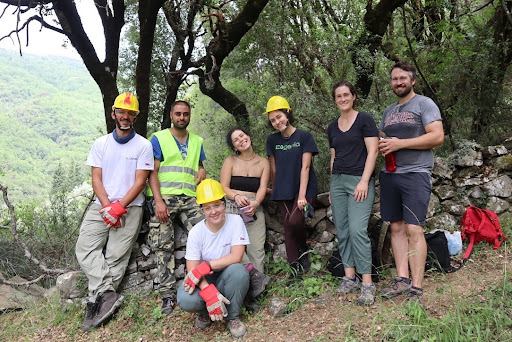 We learned a lot in our pilot project, and since then we have also had the pleasure of traveling to California for a staff training from the California Conservation Corps (which you can read more about
here
). We will apply many of these lessons learned and best practices into our upcoming 2nd pilot. One of the most exciting program changes for me is our new Team Leader role, an elevated cohort member position who will help manage and facilitate the cohort team's work in the field. I am thrilled to announce that our first Ecogenia Team Leader will be Vaggelis Isaris, who participated in our first pilot project in Dorida last year. Vaggelis is local to the area and has been very committed to the region, even working at a guesthouse over the summer months last year upon completing his service term and continuing to support the locals as they need extra support.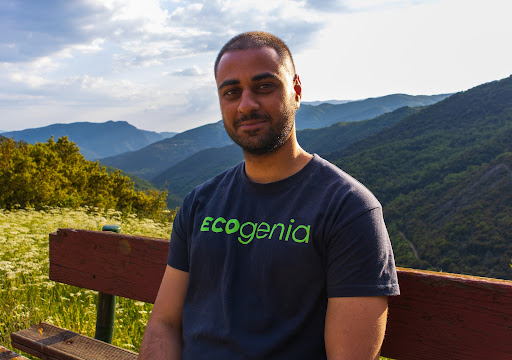 This extra support in the field will be a significant capacity builder for me as I continue to develop the scaling plan for our sustainable tourism work.
Something else I am excited about this season is to kick off a thought leadership group with sustainable tourism leaders to help our team think about how to leverage the "corps model", i.e. young people in civic service programs, to accelerate national and local ecotourism goals
. Sustainable tourism is a delicate balance, but offering quality experiences in nature, in underdeveloped communities across Greece, and especially in the mountains, will help to spread the tourism money more equitably, alleviate the pressure the coastlines face, and get people back to nature.
As Greece continues to promote a national tourism agenda with the aim of increasing tourists coming to the country throughout all seasons of the year, we have to consider how to do this responsibly and sustainably. Sustainable tourism means taking a long-term approach to protecting the environment, preserving cultural heritage, and supporting local communities. Ecogenia is committed to working closely with and alongside communities to meet their needs while also co-designing the program with them to ensure sustainable development is at its core.
Returning to Dorida feels like returning to the original roots of the program, where we tested and successfully applied the Ecogenia model. As an organization, we are committed to training and mobilizing youth to help amplify the national sustainable tourism efforts with the aim of long-term environmental impact for Greece. It is a privilege to be a part of this work, and I cannot wait to see what the future holds for Ecogenia and the beautiful region of Dorida.